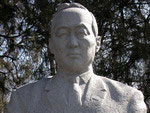 source: wikipedia.kg
Despite the relatively small size of the city there are more than 20 beautiful landscaped gardens there. But, of course, the most favorite among the citizens is the Oak Park, which is only slightly younger than the city itself. The first trees planted there already celebrated their 120th anniversary! The walk under the thick canopy of century-old beauties offers incredible pleasure. The park has its permanent inhabitants – the quick squirrels who have no fear for the passers-by; they even run up closer in anticipation of feed.
Situated in the Oak Park is the open-air Museum of Sculptures along with the remarkable monument of imperial architecture - the Church of St. Nicholas, from which, alas, only the building has survived. Now, there is the exhibition hall of the Union of Artists.
The park features a wonderful fountain with ever burning flame in the memory of the Red Army soldiers who died during the suppression of the uprising in 1919.